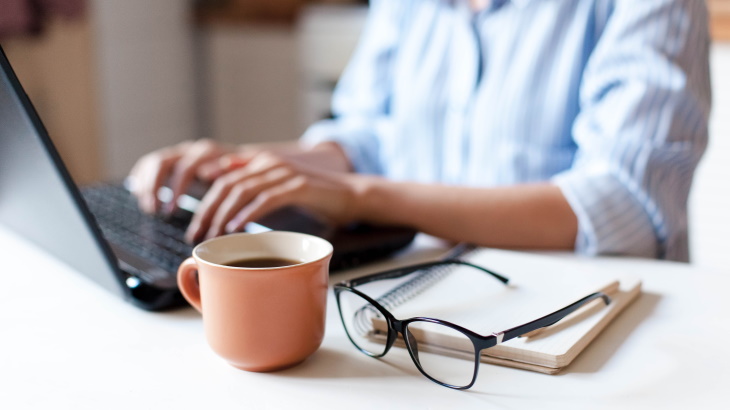 In Our New Apartments Near You, Spread Out, and Find Your Happy Place
Erase any preconceived notion you may have in your head about one-bedroom apartments near you.
We can vehemently tell you how wrong you probably are, based on the miniscule spaces and lackluster finishes you've encountered while looking for apartments for rent in Lenexa.
At the WaterSide Residences on Quivira, expect the unexpected. Not only are our one-bedroom apartments spacious and beautiful, but we also offer one-bedroom apartments with a den, the perfect zone for working from home.
This popular floor plan will go fast. Call us today to schedule a tour and sign your lease before someone else does.

The Den is a Dedicated Work Area in Your Apartment Home
If you've ever attempted to work remotely from your sofa in your living room or from a tiny desk in your bedroom, you know how tempting the television or your pillow can be.
When your desk and computer are in a space dedicated to productivity, you'll find you accomplish more throughout the day and are less likely to opt for a quick nap or to binge a new Netflix show.
In fact, it's not good for your sleep hygiene to work from your bed. You may find it harder to fall or stay asleep. Instead, keep your brain conditioned to believe your bed is for sleep and intimacy only. Otherwise, your brain may continue to dwell on work tasks long after you've closed your laptop for the day.

You Get a Bonus Room to Decorate
If you love turning blank spaces into rooms that suit your personality, renting a one-bedroom apartment with a den gives you even more areas to decorate.
This can be especially rewarding if you share the rest of your apartment with your partner, whose tastes you have to accommodate in all the other rooms. The den can be just for you and reflect what you like.
You might even want to pick a completely different color palette than what's in the rest of your apartment home. The colors you choose for your office can affect the way you feel in it. For example, you might want to pick your absolute favorite color to help ignite your passion for your work, or perhaps opt for blue or green, which are good for concentration.

The Rest of Your Apartment Remains Uncluttered
Think back to your dorm room from your freshman year of college. The moment a visitor walked in, they probably were treated to a view of your messy desk. And let's face it: most work spaces are not aesthetically pleasing, especially if you aren't an organized person to begin with.
Electronics are generally not decorative, so isolate your desk from the rest of your home by locating it inside your den. This keeps your work space out of view from people who visit – and out of your view when you're ready to sign out of work for the day.
Not only will it help your apartment home look more tidy, but you'll be less tempted to tilt your work-life balance in favor of work. (And trust us: at the WaterSide Residences on Quivira, you'll definitely want lots of time for living, thanks to our incredible list of amenities our residents can enjoy.)

You Can "Go to Work" Every Day
When you work from home, you have the shortest commute ever; it's just a stroll to your desk after you grab yourself a cup of gourmet coffee from our free coffee bar.
But when you rent a new apartment in Lenexa with a dedicated workspace, you can actually trigger your brain to switch to work mode. This alone can help you get into and stay in work mode, until you walk to your kitchen to make lunch.

You Can Create a Professional-Looking Zoom Background
While you attend meetings virtually with your camera on, you may find yourself hoping your coworkers don't spot your beer glass leftover from happy hour last night, still sitting on your coffee table. Or you keep your fingers crossed that your dog doesn't get the zoomies in the background and create a distraction.
With your apartment den, you can ensure that everything in view on camera behind you is suitable for the workplace and won't interfere with the productivity of your meetings. It also means that if you aren't as tidy as normal in the rest of your apartment, no one ever has to know – and you don't have to look like a weird, floating head when those Zoom call backgrounds don't work quite right.

Reserve a 1 Bedroom Apartment Near You at the WaterSide Residences on Quivira
Our one-bedroom apartments for rent go fast, especially if the floor plans include a cozy den. If you're ready to improve your remote working situation, then don't delay scheduling a private tour of our apartment homes in Lenexa.
Contact us and ask to see the following floor plans with a den:
The Dubai, with 792 total square feet
The Dante, with 788 total square feet
The Chateau, with 1,000 total square feet
We can't wait to meet you and to show you how relaxing your life can be at the WaterSide Residence on Quivira.