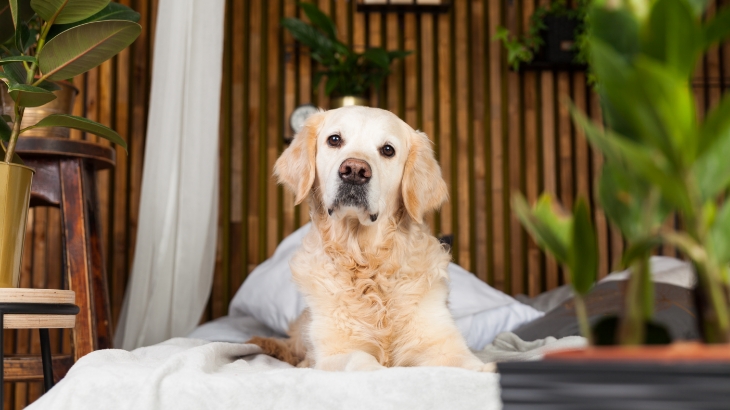 The Neighborhood of Your Luxury Apartment Has it All – Come See for Yourself!
As you search for your new apartment home, it's important that it covers all the bases. This includes things for your beloved companion, precious plants, and of course, you. At Waterside Residences on Quivira, we've got you covered. Our luxury apartments are in the heart of Lenexa, just a few miles from some of the area's top spots.
In this guide, we'll reveal all that surrounds your luxury apartment in Lenexa.
For the Pets
Pets have a huge positive impact on our mental and physical well being, so it's no surprise that you'd want to take them with you wherever you go. Luckily, there are countless pet-friendly activities in Lenexa that are just waiting for you and your pup's arrival.
Lenexa is home to a number of outdoor parks, all of which make the perfect place for you and Fido to spend the day.
Located just down the road from our luxury apartments, Shawnee Mission Park is the largest park in the county, stretching 1,600 acres. The park is dog-friendly, complete with a variety of amenities for you both to enjoy. Run around in the park's 53-acre off-leash dog park or explore the hiking trails. Once you're done, cool off at the park's dog beach.
Mill Creek Streamway Park is one of the rail-trails parks of the Rails-to-Trails Conservancy, an organization that creates trails from previous rail lines. Visiting this park is not only a great way to learn more about history, but it's also a great spot to walk your dog.
Spend a sunny afternoon at Bar K Dog Bar, a dog-friendly park that doubles as a bar. Here, you'll find a lively dog park with a separate area for small pooches. Enjoy both indoor and outdoor bars, live music events, and a restaurant featuring locally-brewed beers and cocktails, small snacks and delicious burgers.
Who's a good boy? Treat your pup to a delicious frozen dessert at Mixed Mutt Creamery, a pet-friendly ice cream shop in Kansas City. These Artisan flavors are made with only the best ingredients for your pooch and are ready for them to enjoy. Your feline is welcome, too! The creamery also offers a catnip-flavored MeowMeow ice cream.
For the Plants
Finding your green thumb has never been easier at your new apartment home. Our luxury apartments are a short drive away from gardens, nurseries, and other places for your plant.
If you're just starting out with plants, consider visiting Soper's Hosta Garden in Lenexa. This home garden specializes in hostas, a perennial plant that thrives in the shade. They're easy to grow and maintain, making them the perfect plant for starters. Jim Soper is happy to share his years of knowledge with visitors looking to learn more.
Family Tree Nursery has everything you need to make your horticulture dreams a reality. For over 55 years, this family-operated nursery has been supplying a variety of plants, flowers, and fresh herbs to the community. Whatever you're wanting to add to your apartment, Family Tree Nursery offers it! Seasonal items are constantly updating, ensuring you get the best plants possible.
Check out Italian Witch Plant Shop for an eclectic collection of plants and shrubs. If you're looking to add a little green to your one-bedroom apartment, you'll definitely want to stop by this plant nursery found right in your neighborhood.
Take your balcony to the next level at Earl May Garden Center, your one stop shop for houseplants, seasonal decor, patio furniture, and more! The choice is yours between a huge selection of plants and nursery stock. If you're wanting to grow your very own high-quality fruit and vegetable plants, they have that, too!
For YOU!
Most importantly, your new home should have activities for you to enjoy. Fortunately, Lenexa is growing each day, providing you with an endless list of things to do.
Black Dog Coffeehouse is a local business that is great for any coffee lover. Inside its doors, you'll discover a modern, cozy feel, with a sufficient number of nooks to hold those trying to get some work done or just catch up over coffee. Its excellent coffee is supplied by Kansas City's own Messenger Coffee, and the baked goods come straight from the shop's neighbor, Ibis Bakery.
The Lenexa Farmers' Market will soon become part of your weekend routine. Every Saturday morning, you can shop fresh grown products from local and statewide vendors. At the market, you can expect to find farm raised meat, produce, baked goods, natural cosmetics, and so much more.
Happy Valley Farm is a family-run farm that allows you to pick your very own berries, including blueberries, blackberries, bush cherries, gooseberries, and grapes. Aside from hand-selecting fresh berries, the farm also has a market, complete with fruits and vegetables, jam, nuts, and seasonal items to take home with you.
There's also things to do inside the community of your luxury apartment. At Waterside Residences on Quivira, we offer a selection of community amenities to enjoy on your lunch break or your day off!
Unwind at our resort-style pool or relax with massage therapy. If you'd prefer to enjoy the outdoors, you can rent a bike from our bike room or get moving on our walking trails. There's so much to do right outside your front door!
Find Your Home at Our Luxury Apartments!
There's so much to do for your pet, plants, and you, near our luxury apartments at Waterside Residences on Quivira. Be part of it all when you find your new apartment home.
We're currently leasing outstanding new apartments for rent, including one-bedroom apartments. We also offer pet-friendly apartments, meaning that for a small one-time fee and monthly pet rent fee, your beloved companion can join you in your new home!
To get started, give us a call at (913) 871-0039. If you can't wait to see our new apartments for rent, take a virtual tour online.
We can't wait to see you soon!