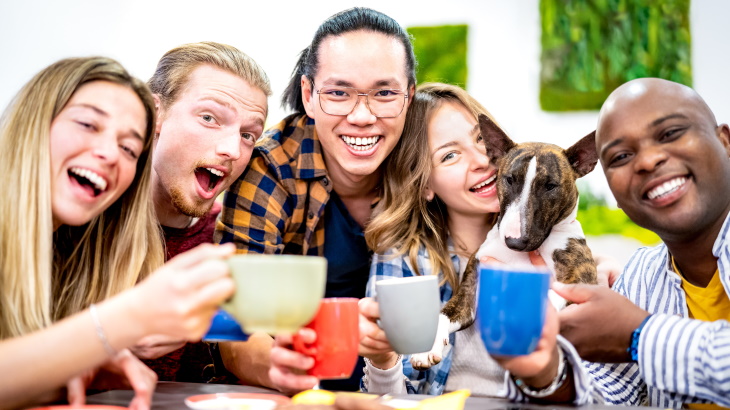 Host Your Next Happy Hour in the Comfort of your Luxury Apartment
We don't know what's better after a long day at work: returning back home to your dog who has been patiently waiting for your arrival, or treating yourself to your favorite beverage. Why not both?
Explore the best places that offer a pet-friendly happy hour, and learn how you can host your very own inside your luxury apartment at WaterSide Residences on Quivira.

What Makes a Great Happy Hour?
Happy hour is the perfect time to sit back and unwind with friends or coworkers after a busy day at work. It allows you to catch up with the people who matter most and get your mind off of work for a while.
A lot goes into a phenomenal happy hour. Next time you're deciding where to go, make sure the experience checks one, if not all, of these boxes.
Discounts. A restaurant that offers discounted food and drinks during happy hour is immediately more desirable. The greater the deal, the better. You'll be able to get the most out of your buck, all while enjoying delicious food you don't have to prepare yourself.
Good service. When deciding where to go for your next happy hour, choose somewhere with excellent service. Easy ordering and an attentive staff are just a few qualities of outstanding service.
Music. Music makes everything more fun. Consider places that are known for playing good music. Even better, some restaurants offer live music to sing and dance to as you sip on your favorite beverage.
Outdoor seating. There's nothing better than enjoying the fresh air and your favorite drink at the same time. Selecting a restaurant with a spacious, outdoor patio can bring your happy hour to the next level.
Top Places for a Pet-Friendly Happy Hour
Many restaurants have now started to offer a pet-friendly happy hour, encouraging customers to bring their dog along with them.
There are numerous restaurants in the Lenexa area that provide an outdoor seating area, where your dog is welcome to join you. Even better, many of these restaurants also offer happy hour deals.
Grab your pup, text your closest friends, and you're ready to go.
Saints Pub & Patio. Saints Pub & Patio is a casual bar that also serves delicious American food. The bar's happy hour deals consist of $1 off drafts, wells, and wines and half price select appetizers.
Tanner's Bar & Grill. Tanner's Bar & Grill provides you with a pub-like atmosphere for your next happy hour. When you stop by, try their world famous "chicken lips."
Hi-Dive Lounge. Located in Kansas City, Hi-Dive Lounge is a great location for happy hour. Enjoy a yard beer for $.50 off or take $3 off any appetizer.
Bar K. Sip alongside your pooch at this dog-friendly bar located in Kansas City. During happy hour, from 4-6 PM, and reverse happy hour, from 8-10 PM, they offer a variety of discounted beverages. Bar K also provides a dog-friendly food and drink menu.
Brewery Emperial. Give their signature craft ales a try at this rustic-industrial taproom. Water bowls are located throughout their spacious patio to help keep your pup happy and hydrated.
Char Bar. Experience unbeatable barbeque as you relax on their outdoor patio. Char Bar is located in Westport and offers a selection of sides and appetizers with tons of brewed beverages on tap.
Happy Hour at Your Luxury Apartment
You don't have to go to a restaurant or bar to enjoy your favorite drink. You can also bring happy hour to your luxury apartment.
Luckily, you also don't need a ton of space to host a happy hour gathering with your friends. Whether it's in your one bedroom apartment or the outdoor areas available within our apartment community at WaterSide Residences on Quivira, happy hour is just as enjoyable.
Take advantage of several community amenities available at Waterside that double as spectacular locations to enjoy a drink and snacks with other WaterSide residents.
The resort-style pool. Sit back and relax next to our pool as you sip on your favorite drink. You may even decide to unwind in our in-water lounge chairs.
Covered grill areas. If you're looking to complement the effervescence of your drink with a tasty bite, gather around the grill area, complete with seating, to create the perfect meal.
Oversized fire pits. As the sun sets and the air gets cooler, warm up next to one of our four fire pits. Our oversized fire pits make an ideal spot to catch up with friends and relax.
Pet-Friendly Apartments at WaterSide
At WaterSide Residences on Quivira, we understand that you can't live without your dog, which is why we provide pet-friendly apartments that are not only an exemplary place for you to live, but also your adored companion.
To accommodate pet ownership, both cats and dogs are welcome in your luxury apartment with an affordable non-refundable pet fee and a nominal monthly pet rent per pet.
Make the most of all there is at WaterSide and bring your pet along to any of the outdoor areas available at your new apartment home.
New Apartments for Rent Near You
Experience all the state-of-the-art community amenities we have to offer at WaterSide Residences on Quivira.
Find your new apartment home by selecting one of our amazing floor plans when you visit us at 8201 Quivira Road.