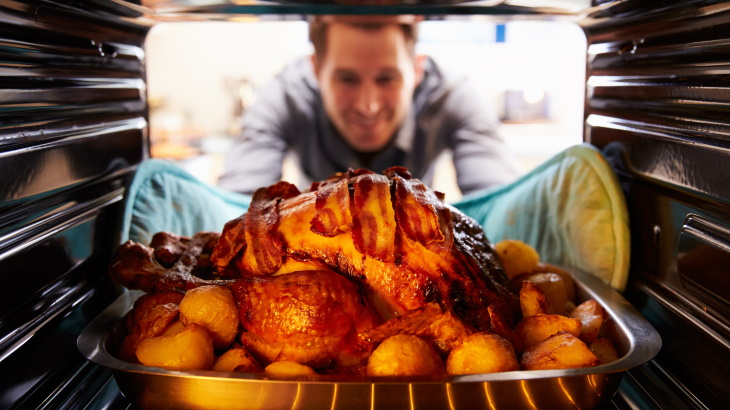 Prepare These Easy and Delicious Side Dishes in the Kitchen of Your Lenexa Apartment Home
Thanksgiving is quickly approaching, which means you'll soon be gathered with your friends and family to enjoy a home-cooked meal. This also means that you need to start planning what it is you're going to bring to the table. Whether you're wanting to stick with a traditional side or are looking to surprise everyone with something out of the ordinary, we've got you covered!
In this guide, we'll be sharing some of our favorite Thanksgiving recipes that you can make right inside your luxury apartment.
#1 – Roasted Garlic Mashed Potatoes
Mashed potatoes are a necessity at every Thanksgiving feast. These roasted garlic mashed potatoes are extra creamy and filled with flavor, allowing them to stand out from any other recipe you've tried in the past. You'll see just what we mean when your loved ones ask if there's a secret ingredient.
What You'll Need:
Roasted Garlic
1 garlic bulb
Extra-virgin olive oil
Sea salt
Mashed Potatoes
2 lbs. Yukon gold potatoes, peeled
2 tsp. sea salt, divided
⅓ cup extra-virgin olive oil
Freshly ground black pepper
Butter (optional)
Chopped chives (optional)
Chopped rosemary (optional)
Instructions:
Preheat the oven to 350°F.
Begin preparing the roasted garlic. Trim about ¼ in. off the top of the garlic bulb. Place cut-side up on foil, drizzle with olive oil, and sprinkle salt on top. Wrap the garlic in the foil and roast for 40-60 minutes, or until the cloves are golden brown and tender. Use the back of a chef's knife or masher to mash the garlic into a paste. Set aside.
Make the mashed potatoes by placing the potatoes and 1 tsp. of salt in a large pot of water. Fill with enough water to cover the potatoes by 1 inch. Boil, and cook for about 20 minutes, or until tender. Drain, and reserve 1 cup of the cooking liquid.
Use a potato masher to mash the potatoes into a large bowl. Using a rubber spatula, fold in the roasted garlic, olive oil, ½ cup of the reserved liquid, 1 tsp. salt, and a few pinches of pepper. Fold until creamy, and add ½ cup more of the reserved liquid for creamier potatoes.
Serve hot and enjoy with butter, rosemary, and chives if desired.
#2- Jalapeño Cornbread
This recipe is spicy, savory, and takes your typical cornbread to the next level. If you're looking to add a kick to your meal, you'll want to save this jalapeño cornbread a spot at your table. Serve with honey butter for added sweetness.
What You'll Need:
1 cup cornmeal
1 cup and 1 tbsp. all-purpose flour
2 tsp. baking powder
½ tsp. sea salt
¼ tsp. baking soda
1 cup almond milk
1 large egg
¼ cup maple syrup
¼ cup extra-virgin olive oil
4 green onions, chopped, and additional for topping
¾ cup seeded jalapeño peppers, diced, about 2 to 3 peppers
¾ cup shredded cheddar cheese
1 tbsp. butter
Instructions:
Preheat the oven to 350°F with a 10 in. cast-iron pan inside.
Combine cornmeal, flour, baking powder, salt, and baking soda in a large mixing bowl.
In a medium mixing bowl, whisk together almond milk, egg, maple syrup, and oil.
Add the wet ingredients to the dry ingredients and stir until just combined. Fold in the green onions, jalapeños, and cheese.
Remove the skillet from the oven using an oven mitt. Grease it using the butter.
Pour the batter into the pan and sprinkle with additional green onions and jalapeños. Bake for 20-24 minutes.
Let cool for 20 minutes before serving. Enjoy!
#3 – Green Bean Casserole
Green bean casserole is a classic side dish that you can never go wrong with. If you're looking to incorporate more veggies into your feast, this dish is the perfect contender with its crispy onions, creamy mushroom sauce, and of course – green beans. This recipe will soon become one of your staples, as it's quick and easy to make in the kitchen of your one-bedroom apartment.
What You'll Need:
Crispy Onions
2 medium yellow onions, thinly sliced
4 tsp. extra-virgin olive oil
½ cup all-purpose flour
2 tbsp. panko breadcrumbs
½ tsp. salt
Filling
1 ½ lbs. green beans, trimmed and cut in half
2 tbsp. extra-virgin olive oil
16 oz. cremini mushrooms, sliced
2 tbsp. tamari
4 garlic cloves, minced
2 tbsp. thyme leaves
¼ cup all-purpose flour
3 cups unsweetened almond milk
1 ½ tsp. Dijon mustard
½ cup grated Parmesan cheese
¼ tsp. freshly ground black pepper
Instructions:
Start by preparing the crispy onions. Preheat the oven to 450°F. Line two large baking sheets with parchment paper and lightly grease a 9×13 in. baking dish.
In a large mixing bowl, toss the onions in oil, flour, panko, and salt. Spread evenly on the baking sheet and bake for 25-35 minutes. Toss every 10 minutes. Onions should be lightly browned and crispy. Remove from the oven and lower the temperature to 400°F.
Prepare the filling by bringing a large pot of salted water to a boil and set a large bowl of ice water to the side. Blanch the green beans by placing them into the boiling water for four minutes. Drain, and immediately immerse in the ice water to stop the cooking process. Drain, and transfer onto a towel to dry.
Heat the olive oil in a large skillet and add mushrooms. Cook for about eight to 10 minutes, or until soft. Add the tamari, garlic, and thyme. Sprinkle flour over the mushrooms and stir. Stir in the almond milk and mustard. Simmer until thickened, whisking frequently, for about 20 minutes. Stir in Parmesan cheese and pepper.
Spread about ⅓ of the sauce into the baking dish. Layer green beans and top with remaining sauce. Sprinkle onions on top and bake covered for 10 minutes. Uncover and bake for 10 additional minutes. If onions are beginning to brown too much, cover the dish for the remaining time. Garnish with more panko and Parmesan.
Serve hot and enjoy!
Don't Wait! Tour Our Luxury Apartments at Waterside Residences on Quivira!
At Waterside Residences on Quivira, we're currently leasing apartments near you in Lenexa. Tour our spacious one-bedroom apartments, or our studios if you prefer an open floor plan.
We understand the positivity that your pet brings into your day-to-day life, which is why we offer pet-friendly apartments! For a one-time fee and an additional pet-rent fee, your pup or feline can live alongside you in luxury. No breed is restricted from our apartments!
To schedule a tour of our breathtaking Kansas City apartments, call (913) 871-0039 or send us a message online.