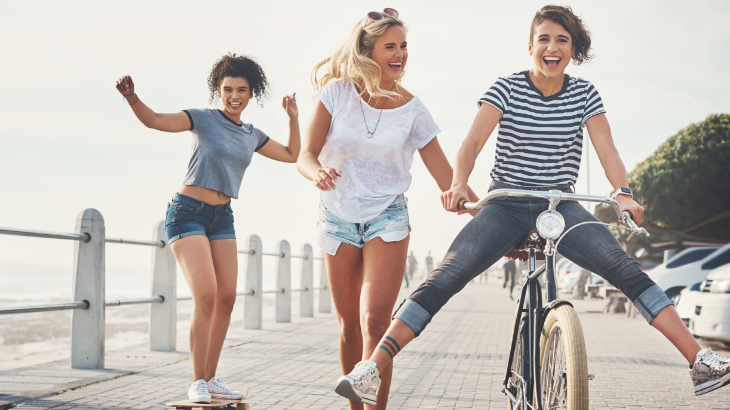 3 Ways to Take Your Summer to the Next Level
Summer is finally here, which means it's time to get outside and explore Kansas City at its finest! While our new apartments for rent in Lenexa are the perfect place for a staycation, there's no replacement for fresh air and sunshine.
If you don't have any summer plans, check out these three summer activities near the luxury apartments at WaterSide Residences on Quivira to help you soak up the sun and take your summer to the next level.
1. Head to the Dog Park to Take Your Summer Fun Off-Leash
One of the best parts about the location of our luxury apartments in Lenexa is that we're right between two of Johnson County's best off-leash dog parks!
Thomas Stoll Off-Leash Dog Park is just a 15-minute drive South from WaterSide Residences. Here, you'll find a vast fenced-in area where your pup can run free and socialize to their heart's content.
If you and your furry-friend seek more of an adventure, just head 13 minutes east to Shawnee Mission Park's Off-Leash Area. You can choose to take the path of least resistance or tough it out on a trial. Either way, all roads lead to an off-leash beach, where your dog can cool off in Shawnee Mission Lake.
Luxury Pet-Friendly Apartments With Pet-Friendly Amenities, Too
There are days when the summer heat is just too much for you and your dog. When you live in our pet-friendly apartments, you have access to our private dog park. Let your bestie stretch their legs for a few minutes and go right back to your luxury apartment, where it's nice and cool!
We know how important your dog is to your family. That's why our pet-friendly luxury apartments allow all kinds of pups on our property. You can have up to two cats or dogs in your studio, three-, two-, or one-bedroom apartment – with zero breed or weight restrictions. Contact us today to find out more about our pet-policy and pet fees.
2. Cast Your Line and Relax at Local Fishing Ponds
Did you know it's actually really easy to get your fishing license in Kansas? You can either get your fishing license from the Kansas Department of Wildlife, Parks, and Tourism office, a licensed agent, or simply purchase your license online.
Once you have your license, just purchase a fishing permit online for Johnson County parks, and you're free to cast your line in fishing ponds like Rose's Pond in Lenexa, which is only a 13-minute drive from our luxury apartment complex. Here, you can set your sights on landing a channel catfish, which is one of the most popular catches at this fishing pond.
Test out your fly-fishing technique at Mahaffie Farmstead Pond, where you can catch largemouth bass, channel catfish, and bluegill. Filled with trails, ponds, and playgrounds, this family-friendly park that's just a 12-minute drive from our new apartment homes has something for everyone!
Find Unique Luxuries in Our New Apartment Homes Around Every Corner
Of course, WaterSide Residences on Quivira provides over-the-top opulence in each of our floor plans, but we also took care to provide incredible and thoughtful luxury apartment amenities, too. For instance, you can spend time at our private fishing ponds.
That's right! Our new apartments for rent have their very own fishing pond. We don't stop there, either. Each of our residents has access to a resort-style pool, tanning beds, a massage therapy room, bike room with bike rentals, and more! Schedule a tour with our leasing office today to see more of our elevated amenities at our luxury apartment complex.
3. Grow Your Plant Family by Visiting a Local Nursery
Plants are one of the best ways to bring life to your home and add color to your decor. Family Tree Nursery and Suburban Lawn & Garden are two fantastic nurseries to visit, because you can find everything you need to expand your plant family and more.
Grab a delicious hand-crafted coffee and breathe in the fresh oxygen at Family Tree Nursery on Niemen, which is a short 7-minute drive from your luxury apartment. There, you'll find an in-house coffee shop, gorgeous plant-ware, eye-catching decor, and, of course, beautiful, healthy plants!
Do you find yourself looking for the perfect succulent to add to your collection every weekend? Then take a 13-minute drive to Suburban Lawn & Garden, where members earn 5 percent every time they shop. This local nursery has monthly specials, so make sure you stop in this summer for deals on tropical plants for your patio.
Plant Your Roots in a Luxury Apartment at WaterSide Residences on Quivira
Summer will never be the same when you live in our new apartments for rent in Lenexa! Not only does our luxury apartment complex have the best location in Johnson County, it has elegant and extravagant amenities that truly take your life to the next level.
Live life on the WaterSide, and schedule a tour of your new apartment home today by contacting us online or calling our leasing team at (913) 871-0039. Our two- and one-bedroom apartments are leasing fast, so make sure you request your tour as soon as possible!