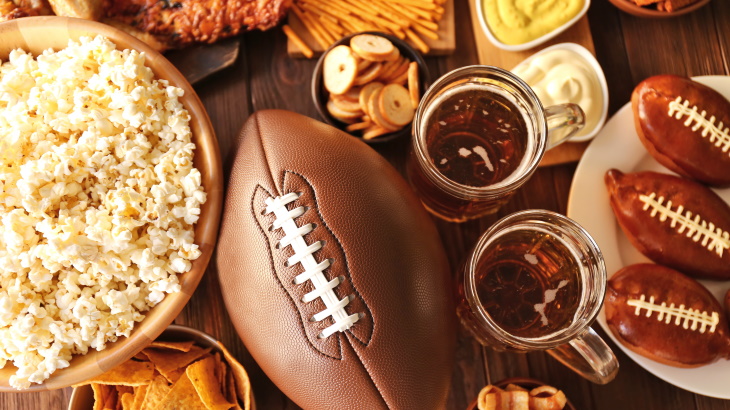 Our Kansas City Apartments are an Opportunity to Make New Memories at Home
The most important part of "home" is the memories you make there. The reason why the feeling of home is so sought-after is because of the experiences people have in a place with loved ones, during holidays, and even alone in a perfectly cozy space.
When you move to a new one-bedroom apartment, you have an opportunity to make your new place a real home by developing traditions that you'll not only enjoy in the present, but also look back on with happiness in the future.
Here are three traditions that anyone can start in our pet-friendly apartments in Kansas City, especially if you decide to become a resident of Waterside Residences on Quivira, the finest luxury apartments near you.
1. Host a Super Bowl Party in Your Luxury Apartment
If you decide to become a resident now or soon, your space will be ready for the ultimate Super Bowl party. Hopefully, you'll be cheering on the Chiefs, but either way, with the right amount of planning, you'll be able to host this February party year after year. In fact, your friends and family will begin to look forward to you being the host, if you nail this event the first time!
Here are some ideas for hosting a year-after-year Super Bowl bash (including one pointer below that's perfect for our pet-friendly apartments):
Make it a chili cook-off or a battle of the dips where everyone brings their favorite one (and if someone wants to bring a salad, that's okay, too!)
Make a little wager on the game by playing "squares," which you can look-up online.
Try some low-stake betting on silly things, like which celebrity will appear in a commercial first.
Skip the halftime show and play an indoor Super Bowl charades game using players' names, previous half-time show celebrities, and more.
Make it a make-your-own pizza night with a toppings bar.
Get all-local products from drinks to signature appetizers and regional food to make it the ultimate Kansas City night (even if the Chiefs aren't in the mix!)
The day of the big game, invite some friends who own pets in our Kansas City apartments and host a "puppy bowl" with football chew toys in our many green spaces!
2. Host an "Old and New Party": The Best Way to Transform Your Social Circle
While you might initially balk at this idea, we think it could be ideal for a variety of reasons. Consider a party that mixes two "friend groups" together from various parts of your life. It can get boring hanging out with the same old crew and never meeting anyone new. This tradition can mix things up for you and your friends, and you can be the one who made it happen.
Think the crowds won't mix? Think again. Research has shown that people who socialize with strangers end up having a far higher opinion of others than they expect. While most of us aren't keen to socialize with folks we don't know, new friendships can be forged. Consider making this a game night, a potluck, or a planned activity so that these soon-to-be-friends will have more to focus on than small talk in your new one-bedroom apartment.
3. Celebrate Your Pet's Birthday in Your Luxury Apartment
If you haven't gone all-out for your pet's birthday before, this might be the time. Plan a celebration that includes pet-friendly treats and some outdoor time right on our property. As the prime destination for pet-friendly apartments, Waterside Residences on Quivira provides plenty of opportunities for you and your pet to make memories together.
You can even consider taking the trails together at Shawnee Mission Park or toasting your pup at Bar K Dog Park (a dog park with a bar for pet-owners!) which will make your pet's special day even better. If you know other pet owners in our luxury apartments, they might be the perfect guests for celebrating another year with your beloved pal.
We Wish You a Wonderful 2023, Full of New Memories in Your Luxury Apartment
At Waterside Residences on Quivira, we wish you a healthy, happy, and fun 2023. Traditions make memories, and memories are what life in one of our Kansas City apartments is all about.
Our luxury apartments near you are currently available for rent, and include studios, one-bedroom apartments, and more. Our apartments are pet-friendly, too! For a one-time nonrefundable fee and an additional pet rent fee, your furry friend is welcome, too – and with no breed restrictions!
To schedule a tour, give us a call at (913) 871-0039 or send us a message online. In the meantime, take a virtual tour on our website, and imagine the many traditions you'll begin and memories you'll make in your new apartment.