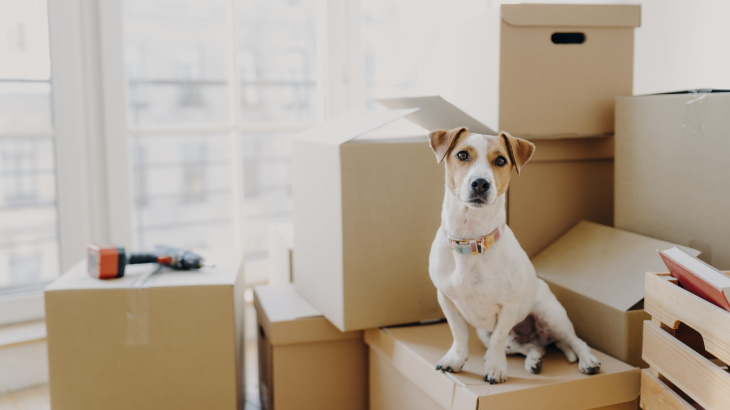 Secure a home in a pet-friendly apartment that's full of amenities for you and for Fido!
When you adopt or purchase a pet, you're making a commitment to care for your furry, feathered, or scaly friend for life. So if you find yourself needing to move into a new apartment in Lenexa, you'll want to ensure the places you're considering are pet-friendly and welcome your critter with open arms.
When you begin your search, write down a list of apartments for rent that you're considering. Immediately mark out any that aren't pet friendly, and don't bother calling or touring them. Be sure to add the WaterSide Residences on Quivira to your list of must-tour apartments. Not only are we a pet-friendly community, but we also provide plenty of opportunities for you to pamper your pet.

Ask your vet how to reduce your pet's stress while you pack and move.
A veterinary professional should be your first contact when you're preparing to move with your pet. Your vet can help you determine the best way to reduce your pet's stress as you pack up your current apartment into boxes.
Pets don't understand the concept of moving, but they can still feel uncomfortable when they experience major changes around them. Your vet can provide you with medication, supplements, or tips to keep your pet calm, cool, and collected.

Secure your pet in a crate or the bathroom while you move out and into your apartment for rent.
When your moving crew arrives to load up the truck and take your worldly possessions to your next pet-friendly apartment, your main concern should be keeping your pet safe.
With your apartment door opening and closing regularly as the team moves boxes and furniture out (or back into your new apartment), you should plan a way to isolate your pet safely, either in a pet carrier or kennel, or by locking them in the bathroom, a small space they may find comforting, that usually won't be full of boxes to move.
This will prevent anything calamitous from happening should your pet dash out the door, and keep them from getting underfoot.

Start small in your new apartment in Lenexa.
When introducing your pet to its new digs, start off by keeping them in a small area until they acclimate. This is especially important if you're unpacking, moving furniture, or assembling new decor pieces.
By keeping your pet in the kitchen, a bedroom, or the bathroom while you work, you won't have to worry about constantly resetting boundaries in the new space, or them getting in the way as you try to navigate while carrying heavy items.
As they adjust, increase their space until they've accepted their new home. And if your pet begins displaying undesirable behaviors, don't wait to contact a professional dog trainer or behaviorist to help your pet feel better about its new home.

Incorporate plenty of exercise into their new routine at home, even if you live in a studio apartment.
To help your pet adjust to life in a new apartment in Lenexa, take advantage of the pet-friendly amenities in the community. For example, our on-site dog park is perfect for your pet to embrace an active life and to socialize with other dogs.
Getting plenty of exercise also helps tire out your dog, so that it is less attuned to new noises. Your dog will bark less and adjust faster with plenty of tender, loving care from you.
While walks and playing in the dog park are great for exercise, brain games can help them get tired more quickly. Use a snuffle mat for feeding kibble, or invest in dog puzzles that engage their minds. You also can work on teaching them new tricks, which is a great way to spend quality time with your pet and strengthen your bond.

Our pet-friendly apartment community is now leasing studio apartments.
WaterSide Residences on Quivira is a pet-friendly apartment community. We know that pets improve your physical and mental health, so why shouldn't you enjoy a luxury apartment community with your best pal?
Our policies accommodate two-pet households without breed or size restrictions for cats and dogs. Simply tell us about your pets, pay a reasonable nonrefundable pet deposit and monthly pet rent, and enjoy life here at the WaterSide Residences.
Not only will you find a range of pet-friendly amenities, but plenty of human-friendly ones, like a state-of-the-art fitness center, outdoor entertainment areas, resort-style pool, coffee bar, and media lounge.
And inside your apartment, you'll be pleased to find stainless steel energy efficient kitchen appliances, full-size laundry facilities in every unit, walk-in closets, luxury vinyl plank flooring, smart home features, and private patios or balconies.
Call us at (913) 396-6185 to schedule a private tour of our studios, or one- or two-bedroom units, and imagine yourself at the WaterSide Residences on Quivira.