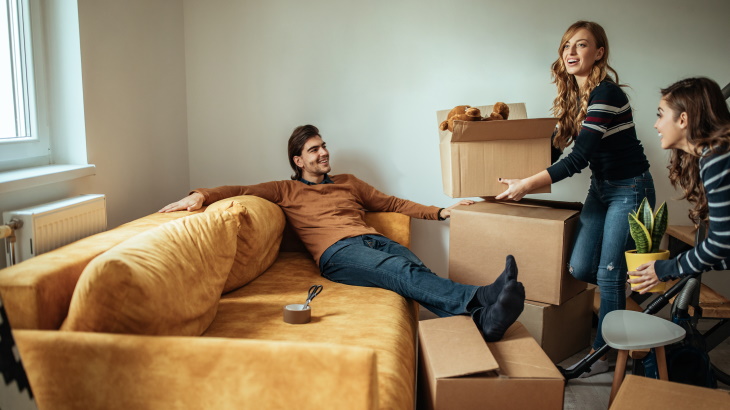 Find Out Why a Lenexa Studio Apartment is a Great Alternative to Sharing
Spacious, premium apartments for rent offer all the bells and whistles a discerning Lenexa resident is looking for – and WaterSide Residences on Quivira are no exception.
Our apartment community is situated in the perfect location and is completed with lushly-landscaped grounds, resort-style swimming pool, exclusive fitness center, and more fabulous amenities.
Designed by a highly-acclaimed architecture firm, our luxury community offers two-bedroom apartments for sharing with a young professional roommate, or even a great alternative for people who prefer living alone.
We'll help you decide whether having a roommate is right for you, and offer you several premium options right here in Lenexa, too.
Roommates are built-in company who share expenses.
If you love coming home to a friend to share the ups and downs of your day at work, then having a roommate while you're still living the single life gives you that outlet. Extroverts who crave human interaction and companionship find that having a roommate is fulfilling and helps expand their social circle.
Opting to split a luxury apartment with a roommate can also help you trim expenses as you save up for that new BMW you've had your eye on since the launch of the model year, or so you can dedicate more of your income to upgrading your wardrobe with shoes with the much-lusted-over red sole.
If you love being sociable and budgeting your income to build your own wealth, then sharing an apartment with a roommate is likely something you'd enjoy.
You can lease a more spacious apartment when you have a roommate.
Because you and your roommate split the rent, you can afford a little extra each month. Together, you can choose a larger apartment, chock-full of amenities and the luxe features you deserve.
A larger space means not only do you both have your own bedrooms to decorate as elegantly as you wish, but you also have adequate shared spaces, like the kitchen, dining area, and living room. With larger common areas, you each feel like you have plenty of room to be yourselves, entertain guests, or prepare a gourmet meal in a well-appointed kitchen.
Roommates require lots of compromise.
Because you're sharing space with another human, you can't always have your way. You'll have to coordinate a plan for using communal spaces, like when one of you wants to have a dinner party.
You'll also need to compromise on the decor of your shared spaces, too. While a deep red kitchen theme might appeal to your roommate, you might be more of a clean, classic white person who prefers minimalism. Similarly, your taste in sofas could drastically differ from your roommates, and you'll find yourself arguing the finer points of mid century-modern style versus a classic Chesterfield.
Each of you will have to concede certain decisions to the other one to find a happy medium. (Maybe a nice contemporary, transitional style will work best for you two?)
Two-bedroom apartments can lead to disagreements.
If you and your roommate are sharing a premium two-bedroom apartment in Lenexa, then you're bound to have disagreements and quarrels from time to time.
To prevent these from occurring, you'll need to establish boundaries and house rules right away, possibly even before you move in, so that you're both in agreement about what living together will be like.
This means you'll want to talk about how you'll share chores, how you'll schedule guests and gatherings of friends, and whether you'll be cooking meals together in your gourmet kitchen, or each dining alone.
If drama – or potential drama – isn't for you, then you might not enjoy living with a roommate.
Solution: Consider a luxe one-bedroom apartment or studio apartment.
Sharing an apartment with a roommate isn't for everyone. And at WaterSide Residences on Quivira, you don't have to feel obligated to do it.
Our offering of one-bedroom and studio apartments in multiple floor plans means there's a premiere home for everyone at our amenity-rich apartment homes.
If a studio is more your speed, you'll love our divided sleeping areas, separate from the rest of the apartment, plus a full bathroom and gourmet kitchen. Choose from three floor plans: the Trevi, the York, or the Piazza.
If you prefer a slightly larger apartment, our one-bedrooms come in six different layouts: the Cascade, the Barcelona, the Dante, the Chateau, the Archibald, and the Dubai. The Dubai even includes a dedicated office area for those seeking peace and quiet while working from home.
Lease new apartments near you in Lenexa, Kansas.
The WaterSide Residences on Quivira have several available apartments to choose from, that are brand-new and waiting for your personal touch.
Visit our leasing office to learn just how much you'll love living here. Check apartment availability on our website, or call us to find your next luxe apartment home in Lenexa.