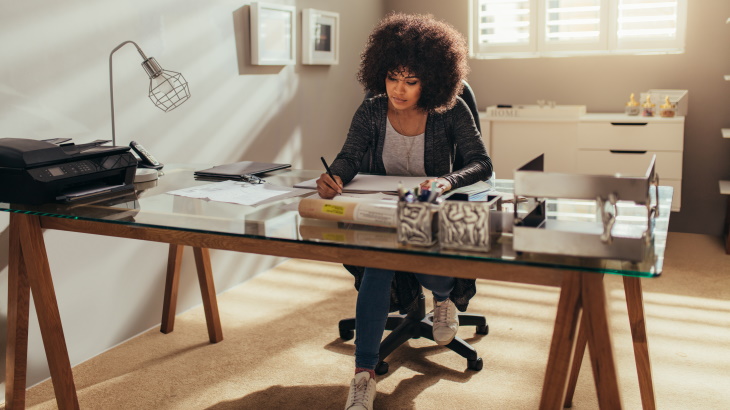 How to Stay Productive from the Comfort of Your New Apartment Home
Many companies have transitioned to hybrid or remote work since the beginning of the pandemic. As enjoyable as it is to work in your pajamas, working from home can sometimes feel distracting and unmotivating.
As technology proceeds to advance, remote work is likely to continue. It's vital that you take steps to separate your workday from your homelife to achieve a balance. There are numerous ways you can enhance your experience of working from home when you live in a luxury apartment at WaterSide Residences on Quivira.
Beginning Your Day in Your One-Bedroom Apartment
Get up a little earlier to take advantage of your extra time in the morning that you'd normally spend commuting. Whether it's reading a chapter of your new book, journaling, practicing yoga, or making yourself a nice breakfast, doing something for yourself can set the tone for your workday.
Get dressed. It may be tempting to work from the comfort of your pajamas, but this can lead to unproductivity. Getting dressed will mentally prepare you for the day and send a signal to your brain that you've got work to do. Wear something that makes you confident, even if you don't plan to leave your apartment.
Along with getting dressed, don't forget to complete the other tasks in your morning routine, like brushing your teeth and combing your hair. Getting ready for the day will help you feel motivated and prepared.

Create a Workspace in Your New Luxury Apartment
Utilize your apartment's square footage and create a workspace you love. This will help distinguish your workday from your homelife, even if they both occur in the same location. Start by selecting the perfect desk. A desk with drawers may help with organization. Next, invest in an office chair. Ensure that it's comfortable so you won't end up on the couch.
Decorate your desk with objects that will motivate you. Some ideas include a framed photograph of someone you love, a candle containing your favorite scent, or a notepad to write things down quickly. If you enjoy your space, you'll look forward to completing your work.
Place your workspace next to a window to allow for natural lighting. Natural lighting not only improves our mood and mental health, but also helps us concentrate and increases productivity. It will also support your professionalism when it comes to online meetings.
If your children will be home with you as you work, you should carve out a nook for them to hang out while you're busy with meetings and reports. You may find you get more done if your child has a desk of their own for their activities – and yours may love to pretend they're at work, too.

Working from Your New Apartment Home
Working from your luxury apartment can come with many distractions. It can be more difficult to differentiate when you're working and when you're not. Try to keep your usual workday hours. Create boundaries with your friends and family on when the best time to reach you is. When your kids are home, prepare activities for them to keep them busy.
Don't forget to take breaks, just as you would if you were actually in the office. Take a step back from your workspace. If weather permits, sit outside on your balcony. Make use of your lunch break.
You may also consider using the community amenities at your luxury apartment. Whether it's visiting the fitness center or getting a massage, escaping your computer screen will help reduce stress and improve your overall health.
Taking breaks throughout the workday helps your mind refocus, which will then increase your productivity.

Additional Tips
Stay connected. Just because your coworkers can't physically stop by your desk, doesn't mean you have to lose those connections. Try to use your webcam in meetings as much as possible. Doing so not only will help hold you accountable, but will also assist you in maintaining relationships with your coworkers.
Purchase blue light glasses. Because you'll be looking at your computer screen a majority of the day, it's important to keep your eyes protected. Blue light glasses can reduce eye strain.
Make a to-do list. Writing in a planner or making a physical to-do list will help keep you on track and better manage your time. You can prioritize your work by highlighting the tasks you want to complete that day. Instead of trying to remember everything, you will be less likely to forget something important if you write it down.
Invest in satisfactory Wi-Fi. As you work from home, it's essential that you have a good internet connection. This will create less distractions and keep you fully engaged.

New Luxury Apartments for Rent Near You
Located in Lenexa, Kansas, WaterSide Residences on Quivira wants to help make working from home as enjoyable as possible. Our new luxury apartments for rent provide you with an excellent place to not only live with your family, but also to work.
Come visit us at 8201 Quivira Road to experience all the in-unit amenities you can enjoy when you live here. Get directions from your current location now.