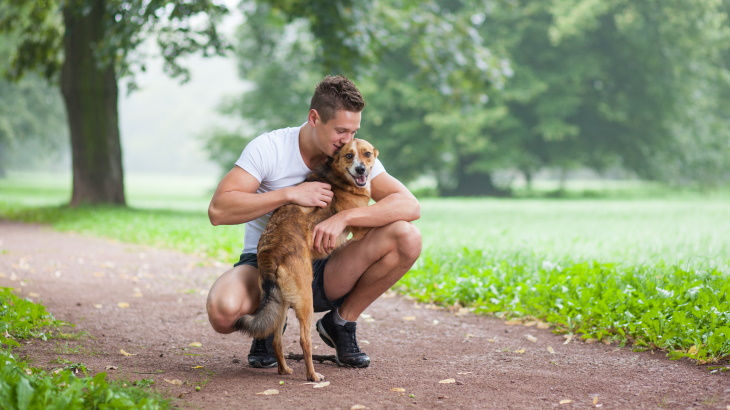 Our New Apartments for Rent Have Everything You Need for You and Your Four-Legged Best Friend
Moving into a one-bedroom apartment doesn't mean you have to leave your lovable companion behind. There are many ways you can continue to keep your dog active in your new luxury apartment.
Keeping your dog entertained can sometimes be challenging. Nevertheless, it's important that they not only get their exercise, but also stay out of trouble. Physical and mental stimulating activities can help keep your dog active in your new space.
WaterSide Residences on Quivira recognizes your loyalty to your pet, which is why we strive to provide you with a wonderful place for you and your pet to live.

Play Games That Are One-Bedroom-Apartment Friendly
There are countless games to play with your dog inside your new luxury apartment. Most of them require very few components.
Use nose work games to keep your dog mentally and physically active. Nose work games allow your pet to utilize their natural talent. Start by telling your dog to stay put while you hide a tasty treat (such as their favorite commercial dog treat, or healthier ones like carrots, snap peas, or popcorn) in your spacious apartment. Once you're ready, give them a cue to go find it.

When your dog is first learning the game, place the treat somewhere in sight. Start hiding the treat further distances and out of sight once your dog feels more comfortable. When your dog successfully finds the treat, don't forget to praise them for their good work. Play a game of tug of war. It not only keeps your dog in motion, but also requires very little space. Tug of war is an exceptional mental and physical workout for your dog. Additionally, it builds obedience and confidence. Allowing your dog to win will encourage them to play more.

Keep your dog moving by creating an obstacle course inside your new apartment. Not only is this activity fun, but it allows you to get creative with ordinary objects that you already have.

Use furniture to form the path. Set up boxes to allow your dog to crawl underneath them. Roll up towels for your dog to jump over. Place a treat at the end of the course so your dog feels motivated and accomplished. This game doesn't have to look the same way each time, as you can change what objects are used within the course.
Teach Your Dog Tricks in Your New Luxury Apartment Home
In addition to growing your dog's confidence, trick training also leads to better health and increased balance and concentration. There are numerous tricks that you can teach your dog. For starters, teach them how to sit, roll over, and shake. As your dog begins to master the basics, you can make it more challenging.
Teach your dog how to retrieve its favorite toy. Begin by giving the toy a specific name. After some repetition and practice, your dog will associate the name with the toy.
After your dog is familiar with the names of their toys, teach them to "go find it." Keeping the toys in a container will simplify this process for your dog. Keep the toy on the top and in sight while your dog is still learning. As your dog gets more comfortable, hide the toy amongst the others.
You may also teach your dog how to put away its toys. This will help keep your new apartment home tidy and boost your dog's confidence.

Utilize the Amenities at Your New Apartment Home
Our community amenities offered at WaterSide Residences on Quivira can also help keep your dog happy and healthy. Our luxury apartments feature a community dog park and walking trails.
Our community dog park is a fantastic way for your dog to meet others in the area. Sit back while your dog plays with their new friend. If you want to join in on the fun, consider playing a game of fetch or tag.
If you're looking to spend some more time outdoors, walk your dog on our walking trail.

New Luxury Apartments For Rent in Your Area
WaterSide Residences on Quivira is a pet-friendly apartment community located in Lenexa, KS. We value the mental and physical health of your pet, which is why we offer policies to accommodate pet ownership. We accept cats and dogs with a $335.00 non-refundable pet fee and an additional $25.00 a month in pet rent per pet. There are no breed restrictions.
To move into your new home with your furry friend, please contact us at (913) 871-0039.