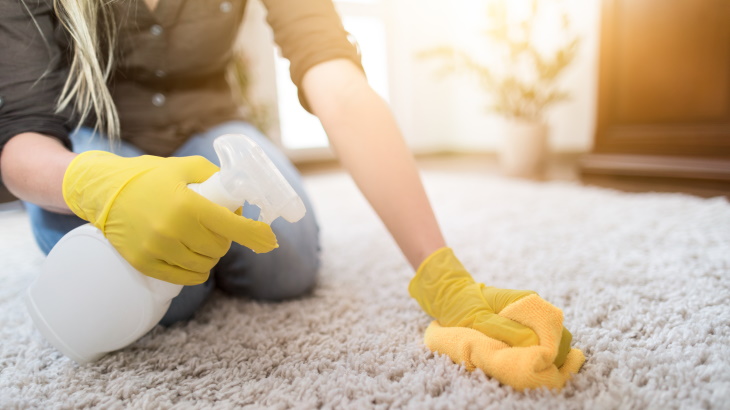 Get Your Overland Park Apartment Ready for Spring with a Deep Clean
As the flowers begin to bloom, it's clear that spring is right around the corner. This also means that it's about time for spring cleaning. Spring cleaning is the perfect way to leave winter behind and prepare for warmer days.
Tidying up your space doesn't have to be a daunting task. Follow these tips to keep your luxury apartment clean and ready for spring.
The Benefits of a Clean Apartment
A clean apartment enhances its appearance and instantly makes it more inviting, but cleanliness also can have a positive effect on your health and wellness. There are several benefits that come with a clean apartment.
Less stress. Clutter can increase feelings of stress and anxiety, reminding you of all that you have to get done and overwhelming your senses. A clean apartment can help you destress and allows you to feel in control of your environment.
Productivity. A clean space stimulates more productivity because your brain is able to concentrate on the task at hand. When your luxury apartment is clean, you're able to get more done and complete tasks that you may have been avoiding.
Improves your mood. Not only can a clean apartment give you a feeling of self-worth, but can also make you happier. When we clean, our brains release endorphins that instantly boost our mood.
Benefits your immune system. Cleaning your apartment regularly reduces the amount of germs on surfaces and decreases your risk of infection from these germs. A clean space can also lessen the amount of dust, allowing you to breathe better. This is especially important for allergy-sufferers.
Luxury Apartment Cleaning Hacks
You may not know where to start when it comes to spring cleaning your luxury apartment. These tips can help you stay efficient and organized as you deep clean.
Conquer one space at a time. Feeling like you have to clean your entire apartment at once can be overwhelming. It may even cause you to put off your spring cleaning. Divide your apartment into reasonable areas, and focus on each one until they're all clean.
Focusing on one area at a time is the most effective way to deep clean your luxury apartment. It can also help you become more scrupulous when it comes to your cleaning. It not only breaks down your checklist, but also puts more focus on areas that may need a little extra love.
Get rid of clutter. Clutter can make your apartment appear messier than it actually is. Taking care of the clutter helps you stay organized and get rid of unnecessary belongings.

Sorting it into three categories – throw away, give away, and keep – can help you find a dedicated place for items you want in your life. Organizing your clutter can help you recognize what items you actually need and what you don't.

Work from top to bottom. When cleaning your apartment, start from the ceiling and work your way down. Starting with the ceiling forces debris downward and eliminates the possibility that you'll need to re-clean your space. This will save you more time in the long run.
Limit your cleaning products. You don't need multiple cleaning products to keep your apartment clean. In fact, purchasing a variety of unnecessary cleaning products can fill up your cabinets, ultimately creating more clutter.

Find a sufficient all-purpose cleaner and microfiber cloths to cover most of your bases. Buy additional products only as needed, or borrow specialty cleaners from a friend or neighbor.

Prepare for the new season. As winter comes to an end, store away anything you won't be needing anymore. This includes winter clothes, extra blankets, and decor. Vacuum bags suction the air from bulky fabrics for easy storage in the smallest of spaces.
Make cleaning fun. If you shift your mindset, cleaning can be a really enjoyable experience. As you clean, try listening to music or watching your favorite TV series. Doing so will not only pass time, but also keep you entertained as you tidy up your luxury apartment.
Spring Cleaning at WaterSide Residences on Quivira
Start spring fresh at WaterSide Residences on Quivira. Select any of our eight unique floor plans to match your current lifestyle, and find your perfect living space.
Our luxury apartments for rent include a living room, dining area, kitchen, private patio, and a bathroom for each bedroom. And you'll love that our smart apartments can help you stay connected. By pairing your smartphone with common smart home technologies, you're able to take control of your luxury apartment.
Sign a Lease for a Luxury Apartments Near You
Step into spring with our luxurious apartments near Overland Park. At WaterSide Residences on Quivira, the choice is yours between eight unique floor plans.
Come visit us at 8201 Quivira Road to tour and rent a luxury apartment today.